Listed in Bathroom Plumbing, Commercial Plumbing, Drain Cleaning, Emergency Plumbing, Kitchen Plumbing, New Construction, Plumber, Plumber 84101, Plumber 84102, Plumber 84103, Plumber 84104, Plumber 84105, Plumber 84106, Plumber 84107, Plumber 84108, Plumber 84109, Plumber 84111, Plumber 84112, Plumber 84113, Plumber 84115, Plumber 84116, Plumber 84117, Plumber 84118, Plumber 84121, Plumber 84123, Plumber 84124, Plumbers, Plumbing Contractor, Plumbing Contractor – Design, Plumbing Contractor – Remodeling, Plumbing Inspections, Salt Lake City Emergency Plumber, Salt Lake City Plumber, Salt Lake City Plumbing, Sewer Line Replacement, Sewer Repair, Slab Leak Repair, Tankless Water Heaters, Video Pipe Inspection, Video Pipe Inspecton, Water Heater Installation, Water Heater Repair, Water Heater Replacement, Water Line Repair, Water Line Replacement
510 W 9460 South Sandy, UT 84070
801-487-4770,801-341-4222
---
Your Trusted Salt Lake City Plumbers
Need a plumber to add to your network? Call 801-341-4222 and connect to your new go-to plumbing team in Salt Lake City. See what your neighbors are saying about us – click here.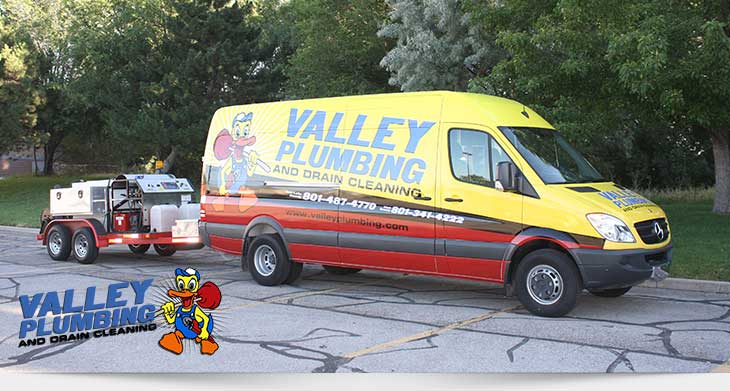 If you need a qualified plumber, look no further than Valley Plumbing and Drain Cleaning. As an established plumbing company in both Salt Lake and Utah Counties, our goal is to provide consistent service on all jobs, large and small.
Customer service is our specialty. We will only do the work your home or company needs.  If you have any questions, we are available 24/7 to make sure you are taken care of. Whether you're looking to have a basic fixture repaired or want more extensive plumbing work done, we're the company to call.
Click here for our latest online coupons and specials.
Quality Services – Guaranteed
Valley Plumbing and Drain Cleaning is the premier service provider when it comes to fast and reliable plumbing in Utah. Making sure your home or business's plumbing runs smoothly is why we went into business. Whether it's a clogged drain, leaking water heater, or other plumbing problem, you can rely on Valley Plumbing and Drain Cleaning to get the job done quickly and with reliable results – every time.
We know how hard it is to find a good plumber. As a family owned and operated plumbing and drain cleaning company, we work hard to provide our customers with the best level of service every day.
Please login to add your review.